There are two types of activity that I absolutely loathe - climbing up an outrageous number of stairs outside, and walking in the rain.
Last summer, when we were visiting Gary's dad in Regensburg, we went to Walhalla, a local temple/monument built by King Ludwig I of Bavaria, as a sort of "German Hall of Fame".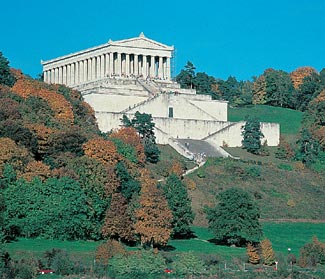 Photo Source
It was a beautiful, humid, sunny day. We walked up to the monument, up all nine million stairs, and halfway to the top I broke up with Gary.
We got back together shortly thereafter, but I was less than pleased.
Last night, we were going for a lovely after-dinner walk when, about 10 blocks from home, it started to rain. It poured. It hailed. It was windy. We were soaking wet. I was seriously less than pleased, and I blamed Gary for the weather. Damn him and his weather-controlling superpowers!
Anyway. Walking in the rain is one thing - I'm still cold. But one of the reasons I want to lose weight is so that I can do things like hike, try new activities and sports, and climb one hundred billion stairs without wanting to die. The view at the top of that hill was spectacular and totally worth the effort. But I want that climb to be easier. I want to bounce up those steps without a minute of hesitation.
I don't want my weight to hold me back. Ever again.